189 Total Views
Zenith Bank Plc (the "Bank") established a US$1,000,000,000 Global Medium Term Note Programme (the "Programme"), in 2014 and had subsequently raised US$500,000,000 under the first tranche of Notes issued under the Programme (the "First Tranche Notes").
The Bank now intends to revalidate/update the Programme and raise up to US$500,000,000 under the second tranche of Notes that will be issued under the Programme (the "Second Tranche Notes") (the "Transaction").
The First Tranche Notes has been listed and admitted to trading on the Irish Stock Exchange ( the "ISE"), and it is intended that the Second Tranche Notes will also be listed on the ISE and admitted to trading on its regulated market.
As was done with the First Tranche Notes, the Bank intends to issue the Second Tranche Notes directly but will retain the flexibility to issue through an offshore special purpose vehicle where market conditions require and allow for same.
The Bank intends to utilize the net proceeds of the Second Tranche Notes for its general banking purposes. The net proceeds from the issue of the Second Tranche Notes will be paid into the Bank's foreign currency domiciliary account and may be converted into Naira or retained in foreign currency.
The Bank does not intend to obtain a Certificate of Capital Importation ("CCI") in respect of the proceeds of the Notes that are not converted into Naira as a CCI is only issued in respect of capital imported into Nigeria and converted into Naira.
Therefore, the Bank will make principal repayment and interest payments on the Notes from its foreign currency reserves as it will not be able to obtain access to the Nigerian foreign exchange market for the purpose of making such payments.
However, in the event that the Bank does not have sufficient foreign currency reserves to meet the principal and interest payments due on the Notes, the Bank would be required to obtain the approval of the Central Bank of Nigeria ("CBN") to enable it to access the official foreign exchange market.
An announcement regarding planned investor meetings in Europe and the United States with respect to the Transaction is scheduled for today 11 May, 2017, and we hereby formally notify the investing public and the Nigerian Stock Exchange (NSE) of same.
The commencement of the Transaction will however be subject to documentation and market conditions.
Related posts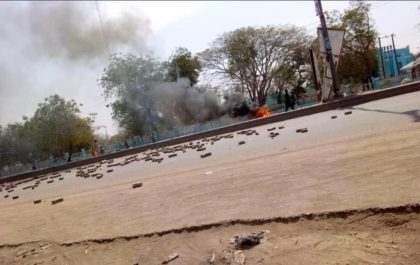 Protesting Angry youth stone helicopter as Buhari Visit kano
5,371 Total Views Some angry youths in Kano State, on Monday, hauled stones at the advance convoy of the President, Major…
Reps threatens CBN Governor with arrest over naira note extension deadline
4,795 Total Views The President Muhammadu Buhari and the House of Representatives are on collision course over the deadline for the withdrawal of…