4,508 Total Views
All Progressives Congress (APC) National Leader, Asiwaju Bola Tinubu, yesterday sought the support of Nigerian youths in his bid for the presidency, saying together, they could change the story of the country for the better.
"If YouTube alone has 2.9 billion people following it, including you all standing here, then Nigeria can excel.
"We can do it. You must develop the 'can do' attitude. You must believe that this country is yours and you want to change the story," Tinubu told thousands of youths from the six Southwest states who stormed the Mobolaji Johnson Stadium, Onikan, Lagos for a rally endorsing his aspiration.
"You must change the story of potential, the story of banditry, you must change the story of tribalism," he added.
Nigeria, Tinubu said, has all it requires to conveniently feed its citizens "by being creative, visionary and committed."
Continuing, he said: "Anybody who says we cannot, they can get out, because it is voluntary. We cannot continue the lamentation of the past.
"We cannot continue with excuses of power failure. No nation can make rapid development without electricity. 'Nigeria, it is about time. We have enough gas to fire up electricity and supply the rest of Europe and make money.
"You know it. We don't want to bore you with it.
"When I started, we used to pick dead bodies on the streets. But today, Lagos is one of the cleanest, most progressive states in the country."
He said that with him at the helm of Nigeria's affairs, challenges such as unstable power supply, banditry, ethnic bigotry would be eliminated.
He told them to revalidate their permanent voter cards to enable them to vote in the 2023 elections.
The former Lagos State governor spoke at a grand rally by youths under the aegis of Progressive Youth of South-West to declare their support for his presidential aspiration at the Mobolaji Johnson Arena in Onikan area of the state.
The youths from different states in the region, like Lagos, Ogun, Osun, Ekiti, Ondo and Oyo states, had converged on Lagos in their large numbers to drum up support for the aspiration of the national leader of the party.
Tinubu, addressing the crowd of youths he described as the brightest, urged them to team up with him in his bid to change the story of Nigeria for the youths and tomorrow which they represent.
"We as a nation can conveniently feed ourselves by being creative, visionary and committed," he said.
He urged the youths to revalidate their permanent voter cards and get ready to vote in the forthcoming 2023 general elections.
Also addressing the rally organised by the Progressive Youth of South-West, Lagos State Governor Babajide Sanwo-Olu said the youth would continue to be critical stakeholders in Nigeria's socio-political development.
He hailed the rally organisers and the attendees for the event, which he hoped would herald a new dawn in the 2023 polls.
Related posts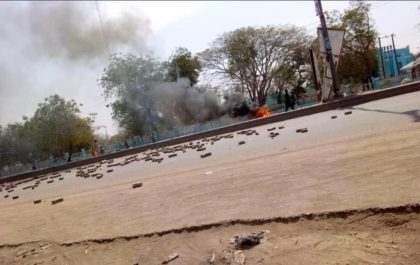 Protesting Angry youth stone helicopter as Buhari Visit kano
4,204 Total Views Some angry youths in Kano State, on Monday, hauled stones at the advance convoy of the President, Major…
Reps threatens CBN Governor with arrest over naira note extension deadline
3,628 Total Views The President Muhammadu Buhari and the House of Representatives are on collision course over the deadline for the withdrawal of…