The Governor of Lagos State Babajide Olusola Sanwo-Olu alongside his management team were all present at the PEBEC function held at Federal Palace Hotel last night. Speaking on the state of Roads in Lagos state, he said, the rain started April, we came on board May 29 which is the pick of rainfall, this limit what we can do for now. So far, we are working on 180 roads and thousands of other road repairs and constructions will commence immediately the rain stops.
He appealed to all Lagosian to be patient over the bad state of roads in the state, saying the continuous rainfall since he was sworn-in about four months ago is slowing down rehabilitation/palliative work on the roads.
Lagos state host over 10percent of Nigeria population on 0.4 percent landmass, the roads are busy and expansion is almost impossible, these are our challenges as regards traffic on our roads. We collaborate with all enforcement agencies in the state to assist in ensuring the smooth flow of vehicles on the roads, even though the LASTMA as been asked not to make arrest any longer. Tomorrow, we will launch Uberboat, which will help a lot in transporting Lagosian through the waterways.
We know we are in for serious business and we are prepared to accommodate all your requests and complains and we will promptly react to them. We also promise to bring software application Reportgov.Lasg.ng soon to that Lagosian can report any mischievous activities within the state directly to us. Why we are confident in all our staff and various agencies working with us, we cannot fully say, there will not be bad eggs but if they are reported in good time such out can be smoked out before they affect others.
Thumbing his chest he said "We will do roads en masse immediately after the rain, We hope when that time comes, Lagosian will not be complaining of too many roads under construction at a time, since we must speed up our work before the next season rain begins, he said hilariously.
Related posts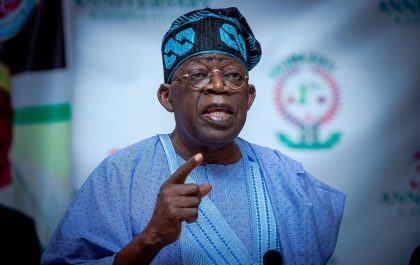 Tinubu confidence of building trillion-dollar economy leveraging on our population
President Bola Tinubu has expressed confidence that leveraging the nation's population and resources, with main focus on unleashing Nigeria's full…