It all over now, after a long struggle between the EPL top riders, with Liverpool given the title holder a run for it will money. It all started when Liverpool fail to capitalize on the 7-point margin which will have kept the Guardiola boys at a far distance.
The match against Leicester, if won by Liverpool might have earned the club a gallant victory at the end of the season but all opportunity was not fully used. According Liverpool coach Kloop, during an interview ahead of the last league matches, he said the fate of the trophy is no longer in their hands but he believes in miracles. They kept to their end of the bargain by beating Wolverhampton Wanderers at Anfield to move onto 97 points for the campaign, but City's success saw them end on 98 points at the conclusion of a stunning title race.
Brighton entered the match having not beaten City in the league since 1989 – Liverpool were looking for a huge favour from Chris Hughton's team, but it never looked like a possible outcome despite the home side taking the lead.
City's team showed one change from the win over Leicester City on Monday night, with Riyad Mahrez coming in for Phil Foden. Kevin De Bruyne was deemed fit enough for a spot on the bench, but Fernandinho once again missed out due to a knee problem.
Mahrez's selection was somewhat of a surprise, particularly with Leroy Sane left on the bench. The latter appeared to frustrate Pep Guardiola with his performance off the bench against Leicester, though, and Mahrez was given the nod down the right as Bernardo Silva dropped back into midfield.
Manchester city at the end seal up the deal with 4-1 to retain tittles back to back, while also setting a recording of two EPL trophies within ten years.
Related posts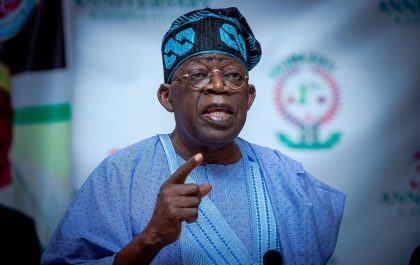 Tinubu confidence of building trillion-dollar economy leveraging on our population
President Bola Tinubu has expressed confidence that leveraging the nation's population and resources, with main focus on unleashing Nigeria's full…