It was another bitter Saturday for the people of Uyo and Akwa Ibom at large on Saturday as the building of Reigners Bible Church Int'l Inc, along Uyo Village Road,Uyo, collapse during service.
The Ten Thousand capacity auditorium suddenly collapse some hours into the service and few minute before offering and thanks giving. Over 200 were said to have died immediately leaving many others with severe injuries. The Governor and his Aids were said to have escaped death by a narrow escaped, Although from anonymous source the Governor lost one of his Aids who rescue him, he sustained serious injury but later died at a nearby hospital.
The actual cause of the suddenly collapse is another story yet another day but it was also gathered the construction work was rushed just for the Saturday event. The State Commissioner for Works, Ephraim Inyang, refused to speak with journalist when he was approached.
The State Commissioner of police , Mr Murtal Mani, who said he could ascertain the number of those dead or those trapped ,expressed sadness over the development. The Chief Medical Director of Uyo Teaching Hospital, Prof Etete Peters, said of the 50 cases injured patient only one person died about 200 were dead at arrival. Some other victims are in other private hospital and mortuaries around Uyo Metropolis.
Related posts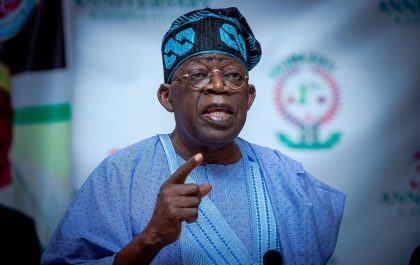 Tinubu confidence of building trillion-dollar economy leveraging on our population
President Bola Tinubu has expressed confidence that leveraging the nation's population and resources, with main focus on unleashing Nigeria's full…