Against all odds, possible grievances, and allegation of Akinwunmi ambode working for PDP, the Governor has delivers is wards to APC's Babajide- Sanwo-olu in the governorship election held on Saturday.
His party, All Progressives Congress, APC, also scored the highest vote in the House of Assembly election jointly held with the governorship election.
According to result announced at the polling Unit 033, Ward A5, Ogunmodede College, Papa Epe polling center after the counting of vote: APC polled 262, while PDP polled 62. For the House of Assembly election, APC polled 253, while PDP polled 61.
Ambode who had earlier cast his vote at about 10.00am commended all Lagosians for deciding to promote the real tenet of democracy by performing their civic obligation of coming out to vote in today's governorship and House of Assembly election.
Ambode expressed happiness that the election was peaceful, "everything here has been very peaceful, I also understand that across the state, voting is ongoing though there have been reports of delay in some of these polling centers.
Related posts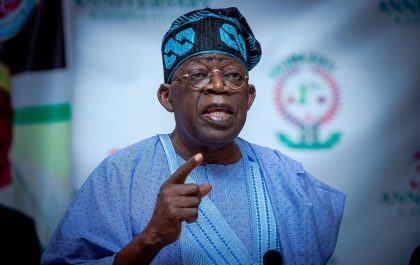 Tinubu confidence of building trillion-dollar economy leveraging on our population
President Bola Tinubu has expressed confidence that leveraging the nation's population and resources, with main focus on unleashing Nigeria's full…