222 Total Views
Fidelity Bank Plc, top Nigerian lender, on Monday unveiled a new savings promotional campaign driven principally by digital technologies to promote a culture of savings amongst Nigerians in consonance with the financial inclusion strategy of the Central Bank of Nigeria (CBN).
Tagged "Get Alert In Millions (GAIM) Season 3", the scheme is designed to reward new and existing customers of the Bank for their patronage. This unique initiative which is expected to run till June 2019, a duration of six months, will see customers cart away a total N110 million in cash prizes.
Whilst the promo is targeted at a cross section of banking customers, the Bank apart from using traditional channels will utilise digital platforms to reach underserved areas. In view of this, the Bank launched an Online Account Opening Platform using Quick Response (QR) code.
•Photo shows, L-R; Ag. Head, Technology, Fidelity Bank Plc. Christopher Onyeneke; Executive Director, Shared Services and Products, Fidelity Bank Plc. Chijioke Ugochukwu; Past Promo Winner of N3 million, Alhaji Gaffar Abdullateef; Managing Director, Chief Executive Officer, Fidelity Bank Plc., Nnamdi Okonkwo; Past Winner, Atta Maria Edugwu; Divisional Head, Operations, Fidelity Bank Plc. Martins Izuogbe; Past Winner, David Itodo; Divisional Head, Electronic Banking, Fidelity Bank Plc. Ifeoma Onibuje at the launch of a new savings promotion campaign; Get Alert in Millions Savings Season 3 (GAIM3) in Lagos on Monday
Related posts
Fuel Subsidy remover is insensitive, NLC kicks
2,390 Total Views The Nigeria Labour Congress (NLC), on Tuesday, expressed displeasure over the pronouncement by President Bola Tinubu that the subsidy…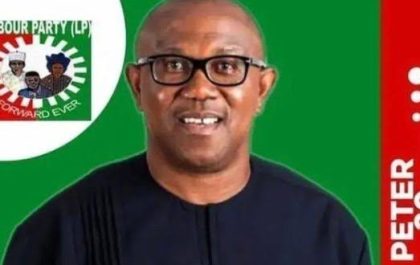 May 29: Labour Party fault Tinubu's speech, says its shallow, defective
2,400 Total Views The Labour Party (LP), has described as shallow and defective, the inaugural speech made by President Bola Ahmed…