866 Total Views
In the new consumer's protection policies and guidelines frame work issued yesterday by the CBN, documentation of agreement and policies must be transparent enough for easy understanding by the consumers.
Available on its website, the bank said this is pursuant to the powers conferred on it by Sections 2 (d) and 33 (1) (b) of the CBN Act, 2007 (as amended) and Section 57 (2) of the Banks and Other Financial Institutions Act [BOFIA] of 2007, as amended.
"The Guidelines" according to the apex bank, is to give effect to the Disclosure and Transparency Principle contained in the Consumer Protection Framework (CPF) for institutions regulated by the CBN. The Guidelines provide minimum Disclosure and Transparency requirements for Financial Institutions under the regulatory purview of the CBN to ensure they provide consumers with all material and relevant information regarding their business relationship in a clear and transparent manner.
To promote transparency and enhance disclosure, Financial Institutions according to the guidelines, shall comply with the following general provisions: Contracts, offer letters, statements of account, notices and other documents provided or made available to consumers shall be written in clear, legible and simple English language and in a minimum font size of 10.
It shall also state the name, contact details of the Financial Institution and the consumer and contain a statement that the Financial Institution is regulated by the Central Bank of Nigeria.
The overall impression of the document, the bank stated must not be misleading or deceptive; Provide a copy of the document to the consumer in a durable medium for future reference among others.
"The objective of the Guidelines is to protect consumers against the provision of inadequate, misleading or failure to disclose material and relevant information and generally guard against lack of transparency by Financial Institutions in their dealings with consumers.
"The Guidelines, therefore, sets out the minimum standards expected from Financial Institutions on consumer protection disclosure and transparency," it read in part.
The Guidelines according to CBN, shall apply to all transactions by financial institutions licensed and regulated by the Central Bank of Nigeria and their agents, subsidiaries and associates. These include Commercial Banks,  Merchant Banks, Specialized Banks, Micro-finance Banks (MFBs), Development Finance Institutions (DFIs), Finance Companies (FCs), Bureaux-de-Change (BDCs), Primary Mortgage Banks (PMBs), Credit Bureaux, Mobile Money Operators, Payment Service Banks, Switching Companies, Payment Solution Service Providers, Payment Terminal Service Providers, Non-bank Acquirer, Super Agents and Mobile Money Operators.
Financial Institutions shall ensure that the provisions of the Guidelines form part of any consumer-related transaction, product or service agreement they may enter into with any other institutions which are otherwise not regulated by CBN.
Related posts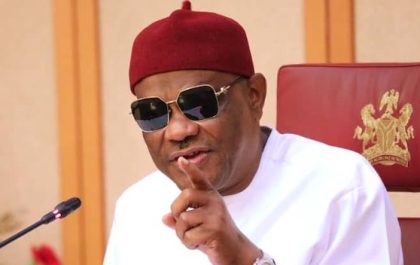 Wike replies PDP, Ortom won't appear before disciplinary committee
3,015 Total Views Governor Nyesom Wike of Rivers State has faulted the National Working Committee (NWC) of the People's Democratic Party…
APC loses Zamfara to PDP
2,015 Total Views Governor Bello Matawalle of Zamfara state has lost his seat to the opposition People's Democratic Party governorship candidate,…