The Food and Drink Fair recently organized by Guaranty Trust Bank (GTB) has received commendations from participants.
The fair, which took place in Lagos, attracted over 300, 000 participants including international chefs, vendors, parents and guardians, school children, pleasure-seekers, amongst others, who took advantage of the three–day show to make sales, transfer and update knowledge, market individual products and services, as well as networking.
Being the second in its series, the fair, which center on promoting enterprise and showcasing unique African delicacies, had British award-winning chef and TV presenter, Edd Kimber, as the headliner and accompanied by his professional colleagues including Lorraine Pascale, Scott Winston, Sunny Anderson, Muse Tahir, Siba Mtongana, Raphael Duntoye, and Elizabeth Solaru.
Masterclasses of different sessions were delivered for both old and young culinary artists and small and medium enterprises and school children who were taught the different cooking and baking skills, while food and vendors were offered ample opportunity to do business and connect with new comers.
Commenting on their experiences at the fair, attendees said the bank provided a perfect place for fun, business and networking.
A vendor who deals on food stuff, fruits and vegetable, the CEO of Vegetal foods, Mrs. Osaretin Okaro, said the fair enabled her to make more business contacts.
"Thank God I didn't fail to come to this fair. I made sales like never before. The most interesting thing is that it has made to add more contacts to the one I have", she enthused.
"You can see what is happening here, great business opportunity. People are coming here to patronise us. So I thank the bank for this opportunity. I urge them to continue doing this every year," she added.
"Oh my God, I feel like not leaving here again. This is so fantastic and amazing. I'm having great fun here, tasting foods and wines.
"Look at the setting, so neat, so enticing. You have all you need right here. And they made it so convenient that you have different options for payment. I wish this could go on beyond the three years. I give thumbs up for GT bank for packaging such an excellent fair,"she said.
The Food and Drink Fair, according to the bank, was designed to celebrate Nigeria's vibrant food culture while promoting enterprise in the small business sector of the food industry, bringing together SMEs operators, global-renowned chefs and food lovers from across the world.
The Chief Executive Officer of the bank, Mr. Segun Agbaje, said at a press conference before the commencement of the fair that alongside the unparalleled culinary experience, it showcased the richness of Africa's food culture and the vibrancy of the small businesses involved in the industry.
"Apart from the amazing experiences that we create for our tens of thousands of guests, it is the personal testimonials that we receive from participants that speak to the true value of the initiative," he said.
Agbaje added: "Behind these small businesses are hard-working fathers, enterprising mothers and incredibly passionate youths who when they share their remarkable stories of record sales at the fair, we see not just the impact of our efforts at promoting enterprise but the immense capacity of our organization as a platform to enriching lives."
He noted that having hosted over 250,000 people and assisted hundreds of small businesses to achieve record sales, the fair since inception had become a major event in the social calendar of Nigerians and expatriates.
Related posts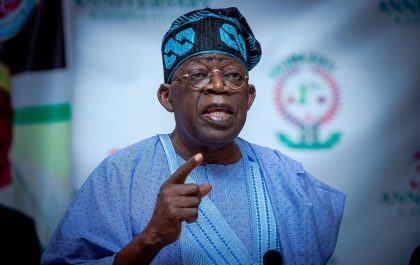 Tinubu confidence of building trillion-dollar economy leveraging on our population
President Bola Tinubu has expressed confidence that leveraging the nation's population and resources, with main focus on unleashing Nigeria's full…