346 Total Views
What could have been the offence of a wife to have deserve fire destruction, this has been the groaning of many in Irese Area of Akure Ondo state, short after a man with the name Ojo Daniyan, allegedly set his wife Dorcas ablaze over the refusal of the wife to give him money from the proceed of a landed property.
According to a source, the incident occurred in Irese area of Akure, the Ondo State capital.
The source explained that the deceased who was the wife of the suspect had collected a sum of N900, 000 from the sales of the land and refused to give the money to her husband because of his spendthrift attitude.
She said the deceased advised that the money should be used for a profitable business against the decision of her husband, a welder, who was against using the money for business.
She, however, said all entreaties from her husband were turned down by the deceased who believed the money should be used to build the family through a business.
Irked by the attitude of his wife on the issue, Daniyan allowed his wife to go to bed but poured petrol on her before setting her ablaze. The woman later woke up and raised the alarm to attract help.
She said "it happened in the middle of the night and it was the scream from the woman that woke me up and it was a terrible thing.
"When I came out, I saw her body badly burnt and she was calling for help while her husband took to her heels but the neighbours rushed her to the hospital where she was referred to FMC Owo.
"The woman eventually gave up after some days after her admission at the hospital, due to the degree of the burns.
"The incident was reported at the police station while detectives from the state command swung into action and the suspect was apprehended."
Confirming the incident, the State Police Public Relations Officer (PPRO) said the suspect had been arrested by the men of the Ondo State Police Command.
Joseph said the incident which occurred at about 11 pm was reported at the station by one Ajibade from Irese area of the town and said all circumstantial evidence confirmed that the suspect was involved in the arson.
He said "one of the children of the man stated that her father bought petrol to the house and ordered them out that he wanted to clean the house.
"It was some of the neighbors who noticed the fire outbreak while the woman was screaming and offered help while her husband did not call for help.
"The man who ran away after the incident had been apprehended and investigation has begun into the matter and the suspect will be charged to court after investigation."
Related posts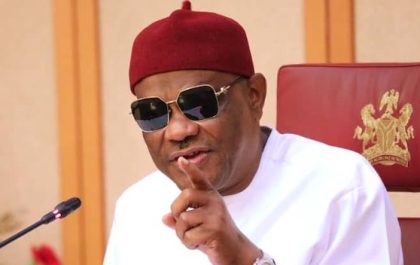 PDP waste N12.5bn in two months — Wike
4,106 Total Views Governor Nyesom Wike of Rivers State, on Wednesday, accused the People's Democratic Party, (PDP's) leadership of squandering N12.5…
Nigerian Army under-go massive shake-up ahead of May 29 hand-over
4,220 Total Views In a major shake-up, the Nigerian Army has redeployed 75 of its senior officers. But the redeployment will…