Afenifere Renewal Group Chairman Chief Olawale Oshun described Malami's statement as rubbish. Oshun said Malami should also declare Hisbah Corps, (a religious police force responsible for the enforcement of Sharia) and Civilian Joint Task Force in the Northeast illegal.
"He is talking arrant nonsense. Let him declare Hisbah police in the 10 Northern states illegal and also let him declare the Civilian Joint Task Force in the Northeast. He is talking rubbish, arrant nonsense. Those are not Nigerian police institutions and they are not Nigerian security institutions but they were created because there is a need; Amotekun was created because there is a need for it. He is talking nonsense," Chief Oshun said.
The former Chief Whip of the House of Representatives urged the governors of the Southwest to go ahead with the implementation of the Amotekun.
"That is what the people of the region want. The governors must go ahead. This country belongs to all of us. They must go ahead," he said.
Yoruba World Congress leader Prof. Banji Akintoye said Malami's statement shows one thing very conclusively that the people controlling Federal Government do not have the welfare of the people Southwest at heart and "we will look at that and decide what we want to do."
Akintoye, a renowned historian, said the Northerners have created many society-controlled organisations in the north.
"They went to create Sharia policemen that can arrest anybody. We, in the South, never questioned that; nobody in Nigeria questioned that. What we have set up is not another police force. We have not set up anything that conflicts with what the constitution provides for and so, we are in a good condition to defend our interests now, that is all. The Yoruba people must be ready to defend their interest under the law.
"This does not mean a confrontation with the Federal government. Lead us now, and we will follow you. Can a man elected by a people from x states refuse to defend his people when they are under pressure? The answer is No. the governors have a job to do and we look forward to them to do it and as they do it, they are assured of our supports," he said.
Afenifere leaders Pa Rueben Fasoranti and Senator Ayo Fasanmi said Malami wanted to rubbish a robust regional idea that gave birth to the security network.
To 94-year-old Fasanmi, the minister deserved condemnation for making a reckless statement, which amounted to gross injustice.
He said: "I have just heard about it now. I am worried about the statement. That statement should not emanate from a minister of justice when he is not a minister of injustice. What does he mean? What the six governors of the Southwest have done was in order."
Fasanmi advised Southwest leaders, particularly the governors, to take Malami to court.
He flayed the minister for lack of sympathy for the region, pointing out that Southwest had groaned continually under the yoke of kidnapping, armed robbery and herdsmen/farmers' clashes.
Fasanmi stressed: "The people of the Southwest cannot sleep with two eyes closed. I don't think Mr. President will support the minister's statement. It is anti-people. There is even the need for the decentralisation of policing. We should be praying for Nigeria. I don't know what I will tell Awo when I meet him."
Fasoranti, who clarified that Afenifere was not contacted by the governors, observed that Malami decided to oppose a good idea.
He said: "Afenifere was not involved and do, we cannot pass any comment. It is a good idea, but, we were not invited. It was deliberate that they should exclude us. Afenifere is an important organisation that has played noble roles in Yorubaland."
Related posts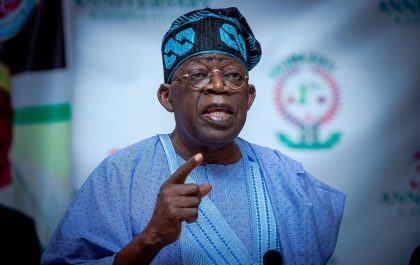 Tinubu confidence of building trillion-dollar economy leveraging on our population
President Bola Tinubu has expressed confidence that leveraging the nation's population and resources, with main focus on unleashing Nigeria's full…