19 Total Views
There has been an ongoing speculation of resignation of Lagos State People's Democratic Party (PDP) governorship candidate, Jimi Agbaje, well the governorship aspirant has come out publicly to refute such claim.
He blamed mischief-makers for the insinuations that he had dumped the PDP, adding it was a move to soil his reputation, provoke crisis within the party and dampen the spirit of party members and his supporters.
In a statement, his Director of Media and Publicity, Felix Oboagwina, quoted Agbaje as saying: "I have never discussed with anyone any plan to dump PDP, neither has such a prospect crossed my mind.
"There is no reason for it. It is uncalled for." He vowed to remain in the party, despite the campaign of calumny being waged against him in the media by a few leaders.
The PDP flag-bearer said he only on Monday released a message encouraging members to rise above the questionable defeats suffered in the last election and maintain faith in the party, and that it would be contradictory for him to suddenly turn tail and flee the same party. According to him, recent vituperations in the media and social media against his person and his role in the last election were the machinations of political featherweights and did not warrant any response.
He said: "Suffice to say that Chief Layi Ogunbambi's claim of being denied funds as Director-General of Atiku Abubakar Presidential Campaign Council in Lagos State amounted to attempting to build something on nothing. For starters, the position he lays claim gives him no locus standi as no such formal position existed in the entire campaign structure of PDP in Lagos or any of the other 35 states."
Reacting to Ogunbanmbi's angst, Agbaje noted that the man, who paraded himself as the DG of the Atiku/Obi Presidential Campaign Council, had his wife, Mrs.  Oluwatoyin  Ogunbambi, contesting as gubernatorial candidate in Lagos State against PDP on another party platform! Serious conflict of Interest!
"I, as the gubernatorial candidate of the party in Lagos, was Chairman of the PDP Presidential Campaign in Lagos. Mr. Leke Osikoya was the State Campaign Director. The national body recognised and related with us accordingly. The title of Director General was reserved for the national campaign council. If there was an Atiku/Obi Presidential Campaign, it would have, at best, been a support group."
Related posts
Oil Pipeline Vandalization drops by 37.21%, Gas supply shoot-up – NNPC
1,456 Total Views The Nigerian National Petroleum Corporation (NNPC) has announced a 37.21 % decrease in cases of pipeline vandalism across…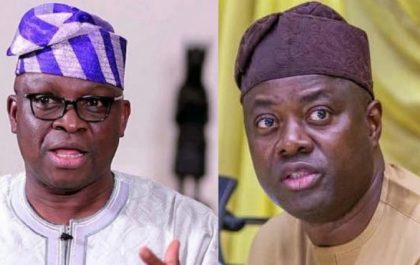 PDP Southwest Chairmanship: Seyi Makinde nominee Arapaja defeats Fayose favorite Eddy Olafeso
1,146 Total Views Former Oyo Deputy Governor Taofeek Arapaja has won the southwest chairmanship seat of the Peoples Democratic Party (PDP)….