All is set for the Season 2 of the Delta principals Cups sponsored by the Financial giant, Zenith Bank Plc. The organizers of the Principals Cup for all secondary schools in Delta States have warned all participating schools numbering over 700 at Local Government level to be fair in all aspects of the event and keep to the rules.
It could be recalled that Zenith Bank's Group Managing Director, Peter Amangbo, has pledged that the ongoing Season 2 of the tournament would be an improvement on the first edition., from all indication it's so certain the season 2 has been improved upon and all matches played so far free and fair compare with the first season.
Deputy Managing Director of the Zenith Bank, Mr Ebenezer Onyeagwu, represented by Mr Lucky Ighade, the Deputy General Manager Asaba, as earlier assured the state, of the banks determination to continue its partnership on the program, saying the Principals Cup was a veritable tool for engaging the youth in productively. He said the Zenith Bank Delta Principals Cup was a well-crafted program of the bank aimed at giving back to society as well as providing the youth a better future, we want to develop football at the grassroots level in the country with the hope that future stars would emerge therefrom to represent the country in international football competitions.
The Season 2 of the competition started on November 1 in Asaba. The Head of the organizing team, Tony Pemu, told journalists on Wednesday that all the schools have been warned to avoid fielding players who are not registered students of their respective schools.
Pemu said: We are aware that one of the challenges of age-grade or school competitions is the problem of cheating. We won't allow 'mercenaries,' we have our own ways of fishing them out.
"This is just the preliminary stage and we have advised all of them to embrace fair play. It is always better when all the schools compete on a level playing field because that is the best way to get true champions.
"Last edition, we disqualified some schools over irregularities and when the time comes, we will do the same again this time."
He added that the screening exercise for season 2 would be conducted after the 26 qualifiers from the local governments must have emerged.
The preliminaries, currently taking place in various centres across the state ends at November while the Zonal stage starts in January 2018.
Related posts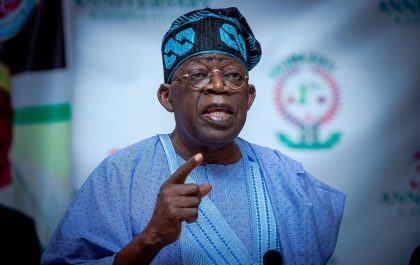 Tinubu confidence of building trillion-dollar economy leveraging on our population
President Bola Tinubu has expressed confidence that leveraging the nation's population and resources, with main focus on unleashing Nigeria's full…