After much drama, writeup and narratives on suspected romantic chemistry between popular Nigerian female top singer Tiwa Savage and Wizkid , the queen finally decided to clear the air on the suspected love trails.
The two were spotted a few months ago in several pictures together and they even performed a few shows and this led to many speculating that perhaps there was something more between the two.
Tiwa Savage dismissed these stories stating that the relationship between the two wasn't romantic in any way and that the two have never had such an interaction, she made this clear in her live interview on Soundcity radio 98.5.
I heard all sorts of stories about Wizkid and I, but I chose to ignore them. At a point, people said I was dating Humblesmith; later they mentioned another artiste.
How long will I continue to debunk these rumours.
I have been in the music industry for quite a while and I have grown a thick skin, so certain rumours or insinuations don't get to me again. Why some really wish the suspicion was true, few do not wait for her to clear the air on the issue before throwing shade, calling her all sorts of names on social media for dating a much younger dude. Why some even link the rumor to the reason her marriage suffer set back in recent time.
She also refused to be drawn into commenting on her failed marriage with Teebillz saying that it was too sensitive a topic to talk about on Air; Marriage is a very sensitive matter that I would not want to delve into at this time.
Whatever I say now might be taken by the other party in another way. More so, I respect TeeBlliz and our son. I don't think it is proper to be discussing this matter on air.
Tiwa Savage was also disapproving of the comparisons to Beyonce that she gets a lot and said they are different entities.
She said: I wish people could stop comparing me to Beyonce. I respect her because she's about the best female artiste in the world, but I don't think I want to be like her.
I would rather like to be myself. There is no basis for me to be like her or anyone. I don't know why people think I am obsessed with her. I want to be on my lane and be known as Tiwa Savage, not Beyonce.
Related posts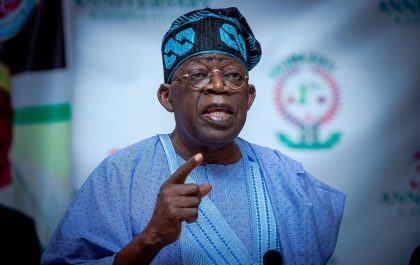 Tinubu confidence of building trillion-dollar economy leveraging on our population
President Bola Tinubu has expressed confidence that leveraging the nation's population and resources, with main focus on unleashing Nigeria's full…