679 Total Views
The APC Party Stakeholders in Ayedire Local Government in Osun state showed the World and the so-called political leaders that there could be a unity in diversity when they held a Stakeholders meeting conveyed by the then APC Ayedire Party Chairman, Mr Rasidi Olubori at the residence of the APC Ayedire Apex leader, Prof. Pade Aderibigbe on Sunday 29th August 2021 with the view to addressing the Local Congress issues. Among the notable Stakeholders at the meeting were: Prof.Pade Aderibigbe, Hon. Yinusa Akintola Amobi, Hon. Gbenga Ogunkanmi, Chief Duro Abidogun, Chief Yemi Ajala, Hon. Leke Ogunsola, Hon. Femi Kehinde, Otunba Adeboye Mukaila Oladejo, Hon. Femi Idowu, Hon. Adigun Adejare, Hon. Bisi Ogunkale, Mr Rasidi Olubori and Chief Ismaheel Onadepo Ishola.
At the end of the meeting, it was learnt that the Stakeholders resolved that the Chairman of the APC Ayedire local Government be zoned to Ileogbo being the fact that Kuta had occupied the position for four years before Oluponna which happened to have spent seven and a half years. Consequent upon this, nine positions were given to Ileogbo who was to produce the Chairman, eleven positions were given to Oluponna and Okeosun who was to produce the Vice Chairman, while Seven positions were given to Kuta.
However, on Saturday 4th of September, 2021, after the Stakeholders had submitted names to fill the positions given to each community, congress was conducted at the open ground of Luther Kings College, Ileogbo where the names of the consensus  APC Ayedire Local Govt. Exco members were read to the hearing of all the party faithful by the Chairman, Ayedire Local Govt., Engr. Adejare Adigun in the presence of Independent National Electoral Commission officials, The Nigerial Police Force, the DSS, the Civil defence and the Vigilantes. Shortly after the names of the Executive members were read, the sound of drums of different kinds rented the air as the successful executives' members were in joyous mood.
Related posts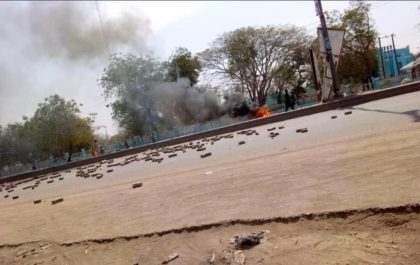 Protesting Angry youth stone helicopter as Buhari Visit kano
4,467 Total Views Some angry youths in Kano State, on Monday, hauled stones at the advance convoy of the President, Major…
Reps threatens CBN Governor with arrest over naira note extension deadline
3,891 Total Views The President Muhammadu Buhari and the House of Representatives are on collision course over the deadline for the withdrawal of…