Hollywood movies lack provocative sex, says Basic Instinct director
1001newsng
0
3 min

read

"Basic Instinct" director Paul Verhoeven complained on Sunday that Hollywood had stopped making "challenging" movies featuring provocative sex as it clamored to cash in on mainstream audiences.
The Dutch filmmaker, famous for a slew of films that shocked audiences with their sex and violence, said studios chasing ratings were now mainly interested in the lucrative "PG-13" market.
"If you say it has to be PG-13, there are a lot of things you cannot do. You cannot be provocative, you cannot be controversial, you cannot be sexual, erotic, in a direct way," he told AFP.
"It all has to be suggestive, elliptic and whatever. And so then the movies become neutral and the movies are not challenging you in any way."
The legendary filmmaker was behind ultraviolent 1980s and 1990s classics "RoboCop," "Total Recall" and "Starship Troopers," as well as erotic films like "Showgirls" and "Basic Instinct."
He spoke out on the red carpet for the Los Angeles-based AFI Fest screening of his latest controversial film "Elle," a twisted cocktail of sex, violence and dark comedy that is France's pick to compete for the best foreign film Oscar.
With its radical take on the aftermath of a brutal sex crime, the movie garnered rave reviews when it debuted at the Cannes Film Festival and drew plenty of dark laughs from the audience on Sunday.
It tells the story of a powerful woman played by iconic French actress Isabelle Huppert, who is violently raped and embarks on a dangerous game with her attacker.
In the United States, the rating of movies is a voluntary system managed by the Motion Picture Association of America and the National Association of Theatre Owners.
A film runs the risk of being R-rated for use of the "f-word" as a verb, a graphic depiction of hard drug use, full male nudity, sex or extreme and graphic violence.
Verhoeven revealed how he had originally intended to make the movie in Hollywood before numerous American actresses turned down the lead role — fearing it too controversial — forcing him to relocate to France.
"There's no problem in France. As a director you can do what you want," he told AFP.
"I escaped to France because I couldn't find anything that was for me challenging. Why bother, you know?"
Huppert, 63, who some critics say has delivered the performance of her career in "Elle," was being honored as part of the screening for a glittering career that has seen her appear in more than 100 movies and television productions.
Verhoeven described Huppert as "the most fantastic actor I've ever worked with, on a level that I did not know existed."
Michael Barker, co-founder of Sony Pictures Classics, which is distributing the movie, said Huppert "has made films in so many countries around the world and her talent as an actress has grown and I'd say there's pretty much nothing she is afraid of."
Huppert said she felt "grateful" to be honored, adding: "Each time something like this happens to me I still feel a little bit surprised.
Related posts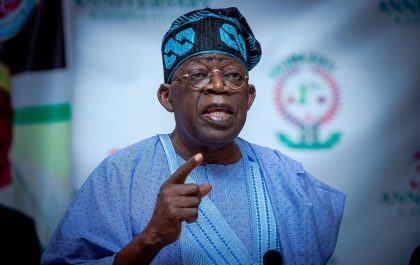 Tinubu confidence of building trillion-dollar economy leveraging on our population
President Bola Tinubu has expressed confidence that leveraging the nation's population and resources, with main focus on unleashing Nigeria's full…