Poak Salonica owner Ivan Savvidis was spotted on the pitch with a Pistol last Sunday in a Superleague match between PAOk Salonica and AEK Athens. This occur after a dispute goal scored by Fernado Verala in 90th minute, putting the home team PAOK, ahead with a goal lead advantage. The Referee Signaled a goal but then seemed to disallow it for offside.
Obviously, the referee decision seems irrational to Savvidis, as he match to the field on to different occasion accompanied by bodyguards. On the second occasion, without the overcoat he was wearing before, Savvidis appeared to be reaching out for his pistol which was in its holder. The AEK officials claimed Savvidis threatened the referee during his first protest to the field before been pulled away.
The incident led Greece's sports minister Giorgos Vasileiadis to suspend the Superleague indefinitely, reaching the decision on Monday after a meeting with the country's Prime Minister Alexis Tsipras.
Vasileiadis said the league would not restart "if there is not a new, clear framework agreed to by all so we can move forward with conditions and regulations".
Related posts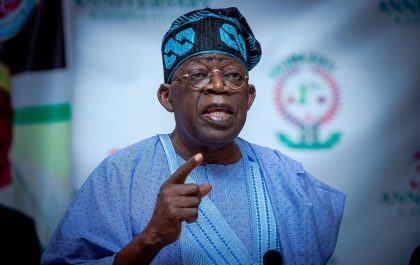 Tinubu confidence of building trillion-dollar economy leveraging on our population
President Bola Tinubu has expressed confidence that leveraging the nation's population and resources, with main focus on unleashing Nigeria's full…