Bodies deposited at Kaduna Hospital after Monday night attack on Abuja-Kaduna Train
1001newsng
0
1 min

read
3,119 Total Views
Newly installed trains plying Abuja-Kaduna was attacked on Monday night by the terrorist. Two cleaner was said to have been shot dead, while many others sustain gun wounds, some even claim passengers were abducted.  "Meanwhile, two dead bodies have been deposited at St. Gerald's Catholic Hospital in Kaduna while some persons are being treated for gunshot injuries.
In a Facebook post, another passenger, Anas Danmusa, said, "Please this is an emergency. We are inside the train at the moment. Kidnappers planted explosives and the train engines have been ruined. We are helpless. Abuja to Kaduna train; gunshots still being fired around us. We are just under the seats praying to God while waiting for help. Since 8pm we have been here/ between Katari to Rijana; I am a living witness."
He later added, "We are safe now."
the NRC could not yet reach its driver nor its engineers onboard the ill-fated train, adding to the anxiety of the already distressed passengers.
"The management of the Nigeria Railway Corporation claims they haven't been able to speak with the train engineers and the driver. The train was traveling to Kaduna and was already 45 minutes from Rigasa Police Station.
"Even though the Nigeria Army states they've arrived and secured the trains and passengers, the management still hasn't been able to touch base with the crew. They are not sure if military secured or not.
"They are on standby to send another coach from Abuja. The train tracks were bombed and the train was derailed. The terrorists derailed the whole train," one of the sources explained.
Related posts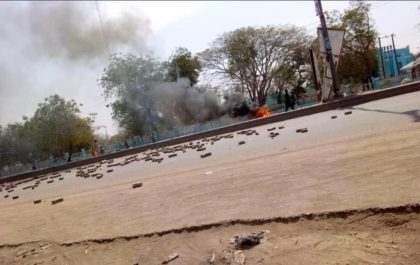 Protesting Angry youth stone helicopter as Buhari Visit kano
4,055 Total Views Some angry youths in Kano State, on Monday, hauled stones at the advance convoy of the President, Major…
Reps threatens CBN Governor with arrest over naira note extension deadline
3,479 Total Views The President Muhammadu Buhari and the House of Representatives are on collision course over the deadline for the withdrawal of…