Appeal Court Judge Disrupt church program, Slap RCCG Pastor over noise pollution
1001newsng
0
2 min

read
227 Total Views
An elderly RCCG pastor receives beating of her life during an ongoing church service on Wednesday in Ijapo, Akure. Mrs. Felicia Akindurotoye, and a pastor of the Redeemed Christian Church of God (RCCG), Felix Solomon, slapped and beaten by a Judge of Federal Court of Appeal, Justice Folayemi Omoleye.
The incident, according to several eyewitnesses, happened on Wednesday, during the midweek service of RCCG, Ijapo, in Akure.
Justice Omoleye allegedly came inside the RCCG, Glory Tabernacles, Ijapo Estate, Akure, at about 10:00a.m. disrupting ongoing every Wednesday's Divine Encounter service.
The judge whose her private residence is located beside the church, has been having a running battle with the RCCG, claiming that prayers and noise from the church members usually disturb her.
Even when the church has been located at the place in since 1989, when the State Housing Corporation approved the land for it. The Judge was said to have bought the landed property beside the church about 10 years ago, since then she had been complaining about the activities of the church.
An eyewitness who did not want his name in print said: "Hon. Justice Omoleye Folayemi of the Court of Appeal, Akure, enters the Redeemed Christian Church of God, Glory Tabernacle Parish, Ijapo Estate-Akure.
"The Provincial Headquarters of Ondo Province 1 during our mid-week Wednesday Divine Encounter Service between the hours of 10a.m and 12p.m., and slapped a 68-year-old woman, and one of the pastors who tried to advise her not to disrupt the church service."
Confirming the attack, the Assistant Pastor, Olatunde Awoyelu, and Pastor Dele Oyesola in-charge of the affected church, confirmed the incident. They described Folayemi's action as strange and dishonorable to a very senior legal officer.
Also, the Pastor in Charge of the Region 22 comprising Ondo and Ekiti States, Pastor Idris Umar, said the church had directed its lawyer to write a petition against the Judge for her dishonorable action by slapping and beating a 68-year-old Assistant Pastor, Mrs. Felicia Akindurojoye and another Parish pastor Felix Solomon during the Wednesday's Divine Encounter service.
He said the woman was rushed to the State Specialist Hospital for treatment over the injury received while Solomon did not sustain serious injury.
Umar said the petition would be forwarded to the National Judicial Council (NJC) to investigate and punish Justice Omoleye.
The Police Public Relations Officer (PPRO), Mr. Femi Joseph, said investigations had begun into the matter.
Joseph said the DPO in charge of Ijapo Police Station has been directed by the Commissioner of Police to interrogate all the parties to the dispute.
Related posts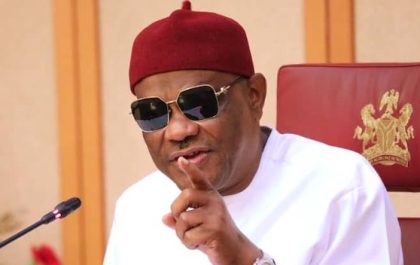 PDP waste N12.5bn in two months — Wike
4,110 Total Views Governor Nyesom Wike of Rivers State, on Wednesday, accused the People's Democratic Party, (PDP's) leadership of squandering N12.5…
Nigerian Army under-go massive shake-up ahead of May 29 hand-over
4,224 Total Views In a major shake-up, the Nigerian Army has redeployed 75 of its senior officers. But the redeployment will…