196 Total Views
In what could be describe as an unfailing support to the Lagos State government and the state resident at large, the Founder/Chairman, Zenith Bank Plc, Jim Ovia, on Tuesday re-affirmed his support to the Lagos State Security Trust Fund by pledging an additional 150 per cent of previous donations to the Trust Fund. Since its inception, Zenith Bank Plc has made annual contribution of N100 million in the past 11 years, amounting to N1.1 billion cumulatively.
Jim Ovia made the announcement on behalf of Zenith Bank Board of Directors during a parley with the Governor of Lagos State, Akinwunmi Ambode. The parley was held on March 6, 2018 at the Lagos Means Business forum at Eko Hotels and Suites. Ovia commended the Government of Lagos under Ambode for encouraging enabling environment for businesses, particularly pointing out the remarkable improvement in security across the state.
According to Ovia, the Lagos State Security Trust Fund has become a model for other states across the federation. He thus encouraged other private sector stakeholders to increase their contribution in funding the security initiative.
While stating the nature of security in Lagos State, Ovia lauded the leadership style of Ambode, likening the state to an incorporated enterprise being so efficiently run by its Chief Executive Officer, in this case, Ambode.
The Lagos State Security Trust Fund was established on September 3, 2007 by the Lagos State Government as a public-private partnership for the improvement of security in Lagos State.
Related posts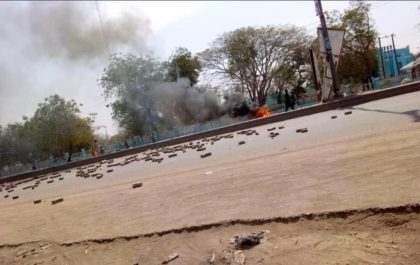 Protesting Angry youth stone helicopter as Buhari Visit kano
5,366 Total Views Some angry youths in Kano State, on Monday, hauled stones at the advance convoy of the President, Major…
Reps threatens CBN Governor with arrest over naira note extension deadline
4,790 Total Views The President Muhammadu Buhari and the House of Representatives are on collision course over the deadline for the withdrawal of…