1,083 Total Views
The Senate has asked President Muhammadu Buhari to declare bandits in the country as terrorists and wage total war against them including bombing all their locations to eliminate them.
The Senate also urged Buhari to declare all the known leadership of the bandits wanted and track them wherever they are for arrest and prosecution.
The Senate's directive followed the consideration and approval of a motion. Banditry In Sokoto State particularly Sokoto East Senatorial District, sponsored by Senator Gobir Ibrahim Abdullahi (APC Sokoto East) and eight other senators.
Leading debate on the motion, Senator Gobir lamented that Sokoto East Senatorial District has now become a safe haven for bandits due to the current crackdown taking place in Zamfara State.
He said that nothing less than about 600 innocent citizens including trained security personnel across all the local government in Sokoto East have been killed so far adding that government has to do something urgent to protect the people in the area.
"Losing a such number of trained security personnel will further deplete the numerical strength of the security personnel we have in the country; thereby jeopardizing the security architecture of the country."
The lawmaker also noted that the present military onslaught on the bandits is not well co-ordinates as he observed that it is only being orchestrated in Zamfara State instead of all the front-line states ravaged by banditry, i.e. Sokoto, Katsina, Niger and Kaduna states.
"The operation should be holistic instead of restrictive in order to produce effective and the desired results. "
In his contribution, Senator Kabiru Gaya (APC Kano South) who seconded the motion said the Senate has done its part by inviting Security Chiefs to interact with them on the security situation in the country.
"I could also recall recently in Kaduna, bandits came in and killed people, it is as bad as that and if we are not careful, bandits will invade us in Abuja," he said.
Also contributing, Senator Uche Ekwunife (PDP Anambra Central) asked President Muhammadu Buhari to address the nation on the state of the security situation.
" It is very unfortunate that insecurity has become terribly uncontrollable across Nigeria.
"Apart from banditry, kidnapping has become very rampant, President has to do something. President Buhari needs to address the nation on the security situation. We must call a spade a spade," she said.
Also, Senator Ali Ndume (APC Borno South) noted that the Senate has done a lot by passing the Supplementary Budget to address insecurity but nothing concrete has been achieved.
"We must commend our security personnel for their efforts for paying the supreme price on many occasions."
The President of the Senate Ahmad Lawan said the upper chamber will not be tired of talking about security adding that the government can do better by providing more money to our security personnel to the tune of N1 Trillion to enable them to take the fight against bandits to a logical conclusion.
Related posts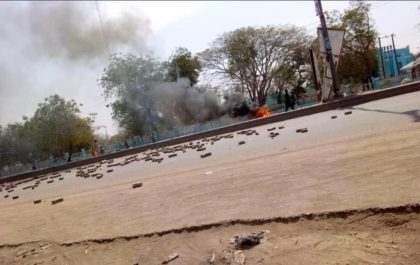 Protesting Angry youth stone helicopter as Buhari Visit kano
3,830 Total Views Some angry youths in Kano State, on Monday, hauled stones at the advance convoy of the President, Major…
Reps threatens CBN Governor with arrest over naira note extension deadline
3,254 Total Views The President Muhammadu Buhari and the House of Representatives are on collision course over the deadline for the withdrawal of…