Okorocha's victory shaken, as name not included on list of senators-elect
1001newsng
0
1 min

read

Imo state governorship election has one of the most controversial election among others states. There has been series of counter allegations both on the side of the ruling party, opposition and newly form party, one that put the state returning officer at risk of his life. Interestingly yesterday, the name of Rochas Okorocha, the outgoing Governor of Imo State, is missing from the list of senators-elect published by the Independent National Electoral Commission (INEC).
Okorocha contested to represent Imo West Senatorial District in the February 23 election. After the collation of results, Innocent Ibeabuchi, INEC Returning Officer for Imo West Senatorial District, declared Okorocha winner of the election.
However, Ibeabuchi has since said he was "forced" to declare the results at the Imo West election collation centre in Orlu. Narrating his reason for the declaration, Ibeabuchi had said he was "held up at the centre by supporters of Mr Okorocha", who insisted he must complete the announcement.
The returning officer's account might have necessitated the omission of Okorocha's name from INEC's list, as the commission simply explained the omission on its website as "declaration under duress".
The names of five other candidates in Abuja South, Kogi East, Ondo South, Plateau South, Rivers East and West, as well as Imo North, as supplementary elections will be conducted in those areas, while the candidate of Bauchi South will be determined by the court.
Related posts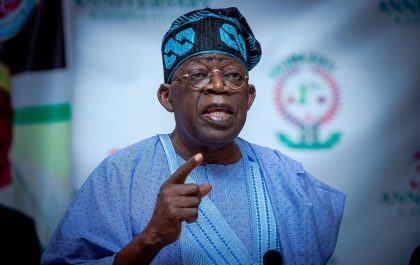 Tinubu confidence of building trillion-dollar economy leveraging on our population
President Bola Tinubu has expressed confidence that leveraging the nation's population and resources, with main focus on unleashing Nigeria's full…