It was another night many will never wish to forget in a hurry as Nigeria Hip-pop stars thrills Abuja resident with amazing performance at the on-going Glo mega music tour.
The concert which took place at the Area 10 old Parade ground, Garki on Saturday night, was anchored by the duo of Mercy Johnson and Juliet Ibrahim the Nollywood industry.
Nigeria's fastest rising music superstar Run¬town, King of the Streets, Olamide, Queens of Afro-pop, Yemi Alade and Omawumi, Afro-pop poster boy, Timaya, wowed the crowd with their kinetic energy.
Similarly, Psquare, 2baba, Flavour, Korede Bello Rekado Banks, Pyhno also treated their fans to the best of music and dance.
The crowd who were elated and energised responded in equal measure and released a corresponding zestful energy which kept the show bursting at the seams with a sensational feeling throughout the night.
Some of residents who spoke said the performances by the various artists were electrifying adding that they had a good time.
Mr John Kigbu, a resident said all the artists put up wonderful performances stressing that he enjoyed himself.
"Abuja Glo Mega Music Tour was awesome; the whole hall was electrifying; you could even see it on the faces of people around.
"Korede Bello was excellent, Tuface was on fire, Runtown, Flavour and Phyno were simply amazing; all the artists brought out their best.
"This is the best music concert I ever attended in Abuja; there is no one like it, I bow for `Globacom' for bringing such show to Abuja.
"I wish they could be doing this every quarter to give us incomparable entertainment, Kigbu said.
Miss Joyce Bolaji, a student could not hold back her joy when she told NAN that she had a good time at the show.
"I was among the girls from the crowd that went up the stage and danced with Korede Bello; that was the best time of my life this year.
"I enjoyed the dance; he is such an amazing performer and I love all the songs he performed on stage.
"All other artists put up brilliant performances to the admiration of everyone in the place; the atmosphere was so electrifying; you could feel the spirit,'' Bolaji stressed.
Bello performed songs like `African Princess', `Mongo Park', `Butterfly', `Romantic', `Do like That', `God Win' among many others with the crowd singing along.
Mrs Ketura Bahago, a hair stylist in company of husband said they came to the show to have fun.
She explained that she loved Nigerian music and thus could not miss the opportunity to attend a show to see her favourite artists performed live on stage.
Bahago who described Yemi Alade as "Sexy Singer'' said her songs, `Tombon Tombon' Na gode, `Looking for Johny' among others she performed were awesome.
"Yemi Alade with her live band and dancers made my day; she was so full of energy and fantastic on stage; her outfit was perfect; it brought out her sexy figure.
"The way she was twisted her waist was something else; Yemi Alade made my day at the Abuja Glo Mega Music show,'' Bahago reiterated.
Douglas Jack Agu also known as Runtown, who was performing for the first time in Abuja, put up a scintillating performance with his songs while the crowd sang along.
He performed songs like `Runtown', `Forever', `Pain killer', `Mad over You' and many others.
Mr Olowale Babatunde, an Abuja cab driver said, he enjoyed Runtown's performance which saw the large crowd screaming and hailing the `Mad Over You' crooner.
"Runtown was good on stage; many people love his songs and he was giving it to the crowd the way he knows best.
"I love everything about him and his performance. It was awesome,'' the cab driver said.
2baba was on stage and gave his fans the best of live performance.
He performed many of his hit songs from `African Queen', Only Me' `Implication', `let somebody love you', One Love and many others.
He also went memory line as he sang some of his collaborations with the Remedies and Tony Tetulla; and also hit songs from the plantation Boiz which the crowd sang along.
Miss Serah Darlington, an undergraduate said Tuface blew her away with his performance and that she was filled with love.
"You know most Tuface songs are about love; while performing, I was following all his songs in spirit; he is simply amazing, creative and wonderful.
"Also, Olamide was something else; he lighted the hall with fire, if you know what I mean; the atmosphere during Olamide's performance was electrifying.
"I think all the artists did a wonderful job on stage; from Korede Bello to Rekado Banks, Pyhno, Runtown, Tuface, Olamide and others; they did well,'' Darlington stressed.
However, some residents expressed displeasure at the unruly attitude of private security also known as "Bouncers'' at the entrance of the hall.
The bouncers did not allow back into the hall some music lovers that came out to purchase drinks.
Mr Edwin Charles, a resident said, "Imagine, I was inside, so I came out and bought drinks for me and my friends and these guys at the gate refused to let me in.
"They said I have to buy another ticket to enter the show while I had the pass already.
"I think these guys at the gate just want to extort extra money from people who don't know their right; how can I have a pass and still pay them,'' Charles queried.
Similarly, Miss Ene Idoko, a makeup artiste said the `Bouncers' were not in the proper attitude of handling the entrance of an event.
"How can they decide that any person that comes out either to buy drinks or other things would not be allowed back inside the hall?
"I have never seen such a horrible and wicked thing like this; this is just crazy.
"They claimed that they were ordered to control the crowd at the entrance, that is why they do not allow those that came out back into the hall; it's just a crazy idea,'' Idoko stressed.
Nollywood's Richard Mofe-Damijo, Kanayo O. Kanayo, and Patience Nzokwor also know as `Mama G' made brief appearances on stage.
Related posts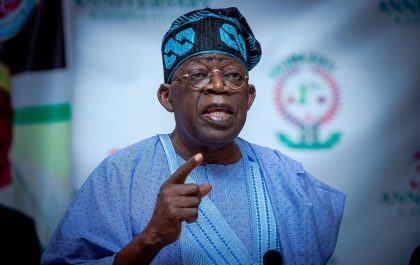 Tinubu confidence of building trillion-dollar economy leveraging on our population
President Bola Tinubu has expressed confidence that leveraging the nation's population and resources, with main focus on unleashing Nigeria's full…