Emirate flights to and from Nigerian still on hold till August 15
1001newsng
0
3 min

read
3,781 Total Views
Emirates' flights to and from Nigeria will remain suspended until August 15, 2021, the United Arab Emirates (UAE) carrier has said.
 This negates the earlier announcement by the UAE authorities, which announced a lift of the ban on Nigerian effect with effect from Thursday.
In a travel update posted on its website, Emirates said the suspension is "in line with government directives that restrict the entry of travellers originating from Nigeria into the UAE."
"Customers who have been to or connected through Nigeria in the last 14 days will not be permitted on any Emirates flights bound for Dubai," the airline further said.
The UAE authorities had said effective August 5, 2021, eligible travelers from Nigeria and 10 other countries will be allowed to travel to/through the UAE.
The countries are India, Pakistan, Sri Lanka, Uganda, Vietnam, South Africa, Afghanistan, Indonesia, Bangladesh and Nepal.
It will be recalled that since March this year, scheduled flights between Nigeria and the UAE have been stopped following diplomatic row over Covid-19 protocols.
While the Federal Government stipulates negative PCR test as a requirement for travellers to Dubai, the UAE further imposed rapid antigen test as another condition for visitors to Dubai; the development which the Nigerian government rejected and on the basis of which banned the UAE flag carrier, Emirates, from coming to Nigeria.
On Saturday June 19, Emirates announced resumption of flights by June 23 following the lifting of travel ban on Nigeria and other countries by the Dubai's Supreme Committee of Crisis and Disaster Management which also removed the rapid antigen test and said passengers from Nigeria would only be required to possess negative PCR test.
But 48 hours after the UAE authorities made a u-turn and reinstated the flight ban.
In response to the allegation by the Federal Government that the UAE protocols were discriminatory against Nigeria, the UAE General Civil Aviation Authority (GCAA) denied targeting Nigeria or any particular airline in the measures taken in response to the COVID-19 pandemic, saying it was committed to upholding the highest standards of public health and safety.
Following Tuesday's announcement by Emirates, travel agents have vowed to stay action on Dubai tickets until they get clear communication from the airline.
President of the National Association of Nigerian Travel Agencies (NANTA), Mrs. Susan Akporiaye said, "We are waiting for further directive because we are tired of all this. This has happened over and over again. For us in the travel community, until we get a communication from the airline., we will not take any action because this has happened more than once and our members went ahead to issue ticket and did so many things and before you know it, they brought up another one. So, we have decided, going forward, until we get a communication from the airline, we will not take any further action."
Related posts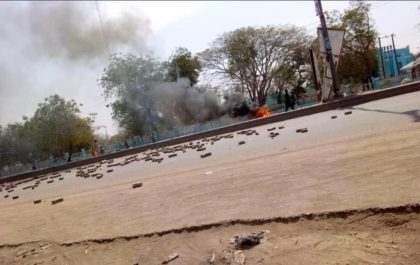 Protesting Angry youth stone helicopter as Buhari Visit kano
4,486 Total Views Some angry youths in Kano State, on Monday, hauled stones at the advance convoy of the President, Major…
Reps threatens CBN Governor with arrest over naira note extension deadline
3,910 Total Views The President Muhammadu Buhari and the House of Representatives are on collision course over the deadline for the withdrawal of…