The court proceeding aim at setting Sowore free from the DSS custody has once again failed as Judge rescued himself over past ordeal between him and the publisher of sahara reporters, Omoyele Sowore. Earlier Justice Ojukwu has fixed February 11, 2020, as next adjourned date. Meanwhile, as the process was ongoing in the courtroom loyalist of Sowore, who were co-activists, were outside, displayed placards with inscriptions such as 'Stop silencing dissenting voices,' 'save our democracy,' and 'NHRC must protect our rights,' were singing and dancing when the miscreants emerged from a nearby street.
The miscreants arrived with a large banner with the inscription, 'Support Buhari, say no to saboteurs' as they chanted 'Sai Baba.'
A few minutes later, they attacked the activists and journalists who scampered for safety.
One of the coalition leaders, Deji Adeyanju and two members were assaulted with sticks and stones.
Adeyanju sustained some injuries before he was rescued and taken to an unidentified hospital for treatment.
A police team that attempted to stop the melee was also overwhelmed by the miscreants.
The convener, Free Nigeria Movement, Ralph Adebayo, described the attack as unfortunate and a sign of things to come in 2020.
Adebayo said: "What happened today (Monday) is a tip of the iceberg. It is a sign of things to come in 2020. Everybody should brace   for the battle to save and defend democracy in Nigeria."
But Ibrahim Dala, who led the suspected miscreants said the assault was in reaction to verbal insults from the activists.
Dala, who described himself as the co-convener of the Centre for Leadership and Development Initiatives, said: "We will not allow foreign mercenaries and opposition to come and sabotage the government of President   Buhari."
Related posts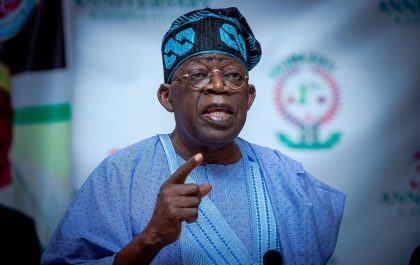 Tinubu confidence of building trillion-dollar economy leveraging on our population
President Bola Tinubu has expressed confidence that leveraging the nation's population and resources, with main focus on unleashing Nigeria's full…