Following the fast risen crisis rocking the All Progressives Congress (APC) in Edo State, one that has always involved the National Chairman of the party, Comrade Adams Oshiomhole, the state party has decided to put the crisis to rest by suspending the chair in order to forestall further damage to the party ahead of the next Gubernatorial election in the state.
The decision is said to follow the vote of no confidence passed on Comrade Oshiomhole by the Chairmen of the APC in the 18 Local Government Areas (LGAs) of Edo State.
According to a statement this Tuesday night signed by Edo APC Chairman, Anselm Ojezua, and Assistant State Secretary, Ikuenobe Anthony, "Consequent on the development, the State Executive Committee has adopted the vote of no confidence passed on him and the subsisting suspension order from the organs of the party in the state."
The Edo APC leaders said the decision was necessary to prevent a repeat of what happened in Zamfara State, where the party was unable to field any candidate in elections.
"Comrade Adams Oshiomhole is the one behind the crisis in Edo APC. We have passed a vote of no confidence on him and he stands suspended from the party.
"We don't want what happened in Zamfara State or other parts of the country to happen in Edo State.
Related posts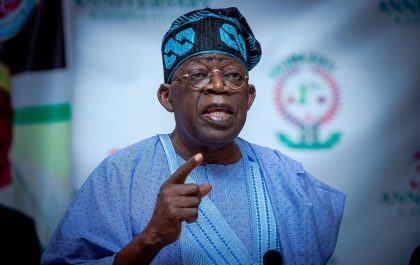 Tinubu confidence of building trillion-dollar economy leveraging on our population
President Bola Tinubu has expressed confidence that leveraging the nation's population and resources, with main focus on unleashing Nigeria's full…